About St Joseph's Church Nympsfield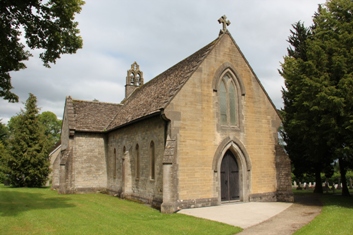 William Leigh purchased an estate at Woodchester in 1845. The Mansion remains incomplete, but is well worth a visit. Leigh was keen to have a religious community nearby, and invited the Passionists. He met with Blessed Dominic Barberi in 1846 at the George Inn, Frocester. Blessed Dominic ministered for a time in Nympsfield. In 1847 he said Mass in a house that is now known as Barberi Cottage. From 1852 Mass was celebrated in the Red Lion, which is now called Chapel House. St Joseph's Church was built in 1923. It is a wonderful spiritual inheritance that Blessed Dominic helped build the foundations of the Catholic community in Nympsfield. Blessed Dominic Barberi is the priest who received Blessed John Henry Newman into the Church. We continue to ask for Blessed Dominic's intercession for our community.
The Dominicans replaced the Passionists and serve the area until 1932, when the diocese took over responsibility for the parish. Well-known Dominicans, such as Fr Bede Jarrett, were associated with Nympsfield. There was a Dominican presence in more recent times as well, in the person of Fr Edwin Essex. St Joseph's church contains a 15th century font, and a 12th century niche in the Lady chapel. Adjacent to the church is the parish school: St Joseph's Catholic Primary School. Beyond that is the Marist convent. Nympsfield and Dursley have had a long association. Originally priests would travel from Nympsfield to Dursley. Now it is the other way round. It is a flourishing community, and many families attend the Saturday evening Mass.